Clutch Brake Motors & Gear Motors
Magnetic Brake Motors & Gear Motors
Clutch Brake Motors & Gear Motors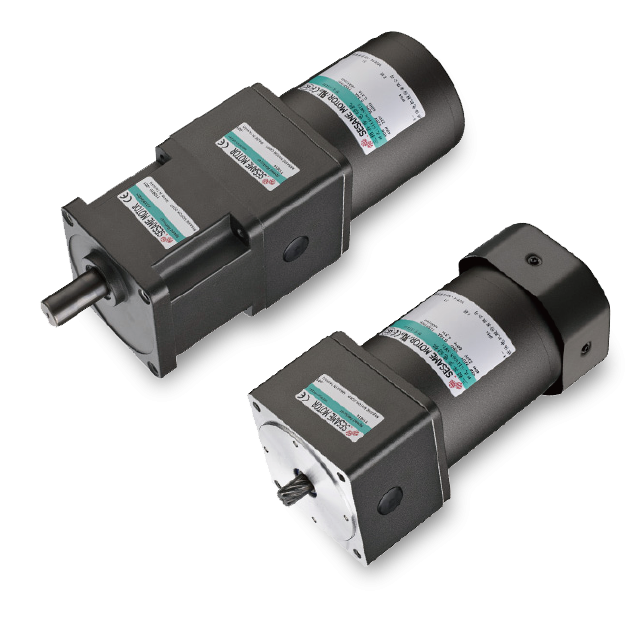 Output 40W-90W
Suitable for highly frequent start/stop operation
High precision and responsive clutch and brake are most suitable for frequent start/stop applications.
​Precise positioning
When the brake is in use, the clutch will separate the link from the brake, so there are no overruns, making positioning precise and accurate.
Simple design
Adapting compact and space-saving design, making it easy to operate and looking elegant.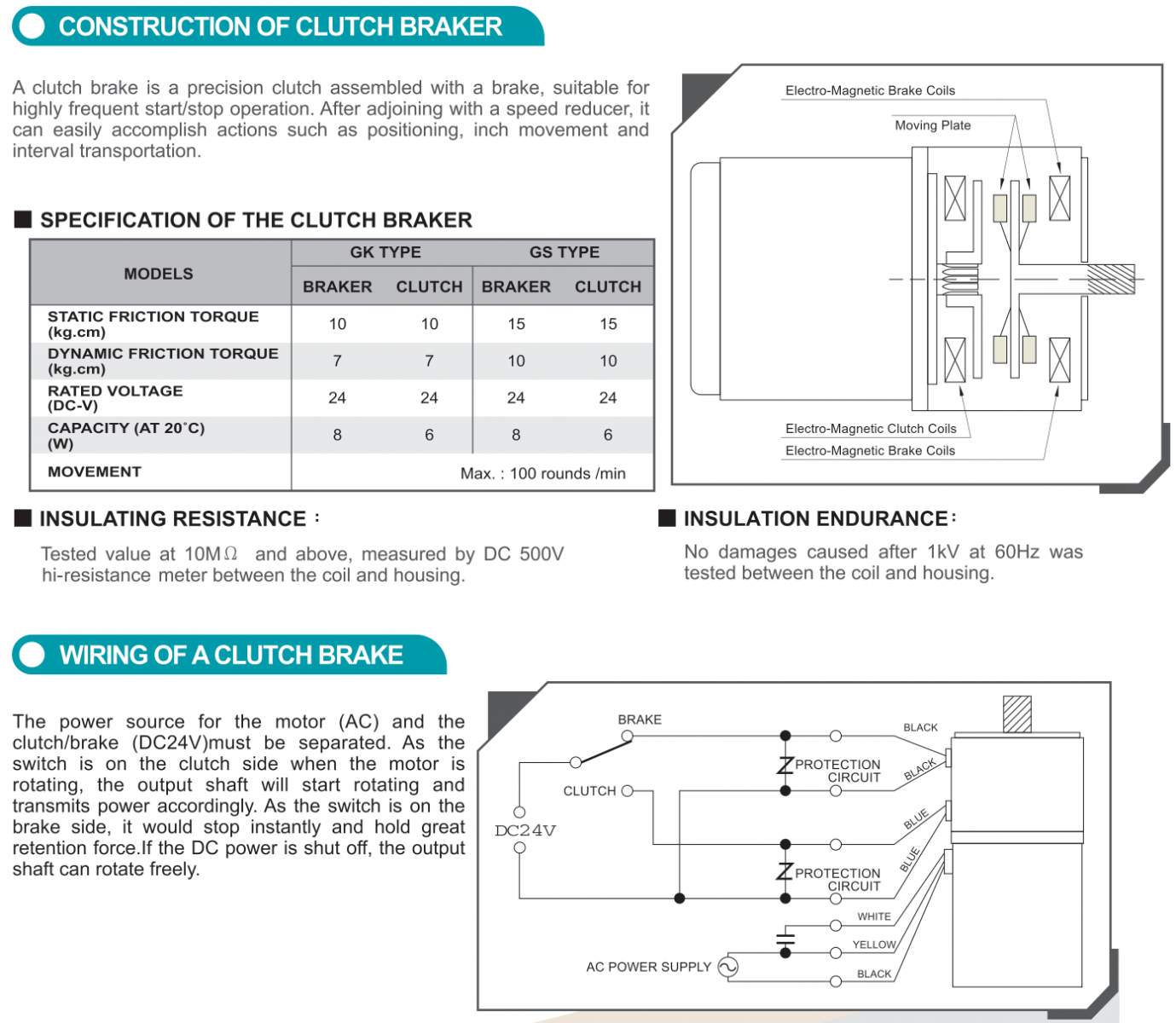 Notes:
The motor using the clutch brake will produce a large moment of inertia due to the stopping frequency and interval time. When a gearhead (speed reducer) is required, please calculate and inform us the feedback moment of inertia on your own machine to provide suitable gearhead (speed reducer). Instant start and stop will generate large current and cause the motor temperature to rise rapidly, the start-stop frequency should not exceed 20 times/min.

The GK clutch brake motors have GN pinion output shaft. The GS clutch brake motors have GX pinion output shaft.
---
Induction Clutch Brake Motors & Gear Motors Specifications
40W Uni-Direction Type
MODEL

OUTPUT
(W)
VOLTAGE
(V)
FREQ.
(Hz)
POLE
(P)
RATED SPEED
(rpm)
RATED TIME
(min.)
STARTING TORQUE
(kg.cm)
RATED TORQUE
(kg.cm)
RATED CURRENT
(A)
CAPACITOR
(μF)

MOTOR

CLUTCH BRAKE

5IK40GK-A

MBC90GN-DC24V

40

1Ø 100/110

50/60

4

1250/1600

Continuous

2.14/2.66

3.17/2.41

0.87/0.76

10/300V

5IK40GK-C

MBC90GN-DC24V

40

1Ø 200/220

50/60

4

1300/1650

Continuous

1.75/2.17

3.01/2.35

0.4/0.34

2.5/450V

5IK40GK-CE

MBC90GN-DC24V

40

1Ø 230/240

50

4

1350/1350

Continuous

2.3/2.58

2.87/2.84

0.32/0.32

2.5/450V

5IK40GK-S

MBC90GN-DC24V

40

3Ø 220

60

4

1400/1600

Continuous

10.51/7.83

2.83/2.4

0.32/0.28

-

5IK40GK-U

MBC90GN-DC24V

40

3Ø 380

60

4

1350/1600

Continuous

9.25/ 6.68

2.85/2.45

0.16/0.15

-
5IK40GK - 40W Dim. (PDF) (DWG) (STEP)
MBC90GN - Clutch Brake Dim. (PDF) (DWG) (STEP)
Gearhead 5GN□KE, □ = Ratio 3-180
60W Uni-Direction Type
MODEL

OUTPUT
(W)
VOLTAGE
(V)
FREQ.
(Hz)
POLE
(P)
RATED SPEED
(rpm)
RATED TIME
(min.)
STARTING TORQUE
(kg.cm)
RATED TROQUE
(kg.cm)
RATED CURRENT
(A)
CAPACITOR
(μF)

MOTOR

CLUTCH BRAKE

5IK60GS-AF

MBC90GX-DC24V

60

1Ø 100/110

50/60

4

1200/1650

Continuous

2.6/2.94

5.0/3.5

1.8/1.12

16/300V

5IK60GS-CF

MBC90GX-DC24V

60

1Ø 200/220

50/60

4

1250/1600

Continuous

3.62/4.41

4.64/3.63

0.64/0.54

4/450V

5IK60GS-CEF

MBC90GX-DC24V

60

1Ø 230/240

50

4

1300/1350

Continuous

4.14/5.22

4.56/4.4

0.56/0.55

4/450V

5IK60GS-SF

MBC90GX-DC24V

60

3Ø 220

60

4

1300/1550

Continuous

13.72/10.70

4.47/3.77

0.41/0.39

-

5IK60GS-UF

MBC90GX-DC24V

60

3Ø 380

60

4

1400/1550

Continuous

14.33/10.15

4.2/3.79

0.21/0.22

-
5IK60GS - 60W Dim. (PDF) (DWG) (STEP)
​MBC90GX - Clutch Brake Dim. (PDF) (DWG) (STEP)
Gearhead 5GX□K, 5GX□KB, □ = Ratio 3-200
90W Uni-Direction Type
MODEL

OUTPUT
(W)
VOLTAGE
(V)
FREQ.
(Hz)
POLE
(P)
RATED SPEED
(rpm)
RATED TIME
(min.)
STARTING TORQUE
(kg.cm)
RATED TORQUE
(kg.cm)
RATED CURRENT
(A)
CAPACITOR
(μF)

MOTOR

CLUTCH BRAKE

5IK90GS-AF

MBC90GX-DC24V

90

1Ø 100/110

50/60

4

1300/1650

Continuous

4.76/5.86

6.68/5.33

1.5/1.41

22/250V

5IK90GS-CF

MBC90GX-DC24V

90

1Ø 200/ 220

50/60

4

1300/1650

Continuous

4.3/4.21

6.89/5.34

0.76/0.72

5/450V

5IK90GS-CEF

MBC90GX-DC24V

90

1Ø 230/240

50

4

1350/1350

Continuous

4.93/5.08

6.44/6.42

0.66/0.68

5/450V

5IK90GS-SF

MBC90GX-DC24V

90

3Ø 220

60

4

1400/1650

Continuous

23.3/18.25

6.4/5.3

0.7/0.6

-

5IK90GS-UF

MBC90GX-DC24V

90

3Ø 380

60

4

1400/1650

Continuous

23.3/18.14

6.27/5.23

0.4/0.3

-
5IK90GS - 90W Dim. (PDF) (DWG) (STEP)
​MBC90GX - Clutch Brake Dim. (PDF) (DWG) (STEP)
Gearhead 5GX□K, 5GX□KB, □ = Ratio 3-200
---
40W Variable Speed Type
MODEL

OUTPUT
(W)
VOLTAGE
(V)
FREQ.
(Hz)
POLE
(P)
CURRENT
(A)
VARIABLE
SPEED RANGE
(rpm)
STARTING TORQUE
(kg.cm)

MAX. TORQUE (kg.cm)

CAPACITOR
(μF)

MOTOR

CLUTCH BRAKE

1200rpm

90rpm

5IK40RGK-A

MBC90GN-DC24V

40

100/110

50/60

4

0.87/0.76

90~1400/90~1700

2.14/2.66

3.18/4.2

2.2/2.8

10/300V

5IK40RGK-C

MBC90GN-DC24V

40

200/220

50/60

4

0.4/0.34

90~1400/90~1700

1.75/2.17

3.6/4.2

1.8/2.1

2.5/450V

5IK40RGK-CE

MBC90GN-DC24V

40

230/240

50

4

0.32/0.32

90~1400

2.3/2.58

4.4/4.6

2.4/2.6

2.5/450V
5IK40RGK - 40W Dim. (PDF) (DWG) (STEP)
MBC90GN - Clutch Brake Dim. (PDF) (DWG) (STEP)
Gearhead 5GN□KE, □ = Ratio 3-180
60W Variable Speed Type
MODEL

OUTPUT
(W)
VOLTAGE
(V)
FREQ.
(Hz)
POLE
(P)
CURRENT
(A)
VARIABLE
SPEED RANGE
(rpm)
STARTING TORQUE
(kg.cm)

MAX. TORQUE (kg.cm)

CAPACITOR
(μF)

MOTOR

CLUTCH BRAKE

1200rpm

90rpm

5IK60RGK-AF

MBC90GN-DC24V

60

100/110

50/60

4

1.8/1.12

90~1400/90~1700

2.6/2.94

5.6/6.9

3.5/4.0

16/300V

5IK60RGK-CF

MBC90GN-DC24V

60

200/220

50/60

4

0.64/0.54

90~1400/90~1700

3.62/4.41

5.9/6.9

4.6/4.4

4/450V

5IK60RGK-CEF

MBC90GN-DC24V

60

230/240

50

4

0.56/0.55

90~1400

4.14/5.22

7.2

5.2

4/450V
5IK60RGK - 60W Dim. (PDF) (DWG) (STEP)
​MBC90GN - Clutch Brake Dim. (PDF) (DWG) (STEP)
Gearhead 5GN□KE, □ = Ratio 3-180
90W Variable Speed Type
MODEL

OUTPUT
(W)
VOLTAGE
(V)
FREQ.
(Hz)
POLE
(P)
CURRENT
(A)
VARIABLE
SPEED RANGE
(rpm)
STARTING TORQUE
(kg.cm)

MAX. TORQUE (kg.cm)

CAPACITOR
(μF)

MOTOR

CLUTCH BRAKE

1200rpm

90rpm

5IK90RGS-AF

MBC90GX-DC24V

90

100/110

50/60

4

1.5/1.41

90~1400/90~1700

4.76/5.86

8.4/10.2

5/6.1

22/300V

5IK90RGS-CF

MBC90GX-DC24V

90

200/220

50/60

4

0.76/0.72

90~1400/90~1700

4.3/4.21

8/8.7

4.4/4.4

5/450V

5IK90RGS-CEF

MBC90GX-DC24V

90

230/240

50

4

0.66/0.68

90~1400

4.93/5.08

9.8/10.2

5.2/5.6

5/450V
5IK90RGS - 90W Dim. (PDF) (DWG) (STEP)
​MBC90GX - Clutch Brake Dim. (PDF) (DWG) (STEP)
Gearhead 5GX□K, 5GX□KB, □ = Ratio 3-200