Advantages and Applications of Planetary Gearboxes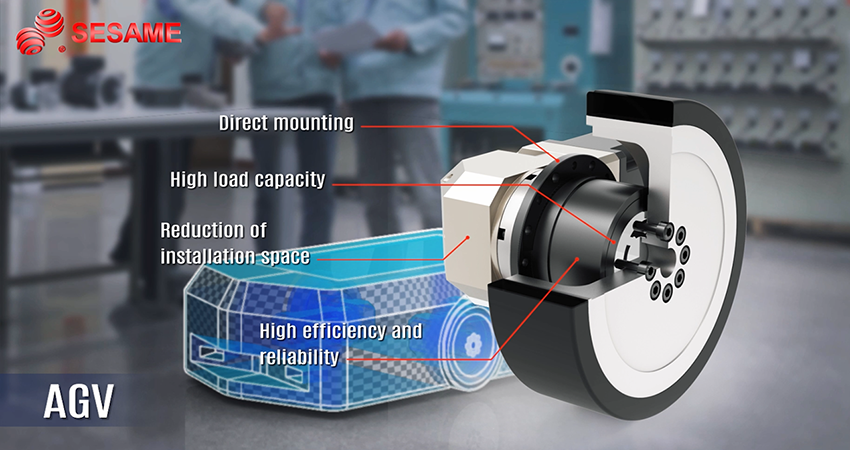 Planetary gearboxes were launched 30 years ago. At the beginning, planetary gearboxes have only appeared in high-end devices in Europe and the USA, have gradually entered the field of automation, and in recent years are widely used in machine tools, semiconductor, packaging, medical, food and beverage, aerospace and other industries. A combination of servomotor and planetary gearbox is part of the standard equipment now. What are the benefits and application of using planetary gearboxes?
What is a planetary gearbox?
As the right figure, a planetary geartrain set consists of a yellow sun gear, dark blue planet gears, a green ring gear and a light blue planetary arm carrier. The ring gear is fixed in this geartrain and the planet gears rotate by themselves in addition to rotating around the axis of the sun gear. A gearbox with this geartrain structure is called a planetary gearbox, or gearhead.
〈READ MORE: What Are Planetary Gearboxes?〉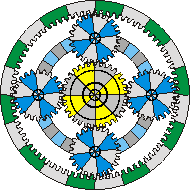 Advantages of planetary gearboxes
High torque density - a planetary gearbox is mainly composed of a sun gear, planetary gears and a ring gear, etc., and the torque load can be distributed to different gears. Therefore, with the same volume, can withstand higher torque than other types of gearboxes.
Economy - a planetary gearbox + a lower power motor, to increase output torque and reduce the overall cost of configuration.
High precision - up to 1 arcmin.
Low noise - the lowest 55 decibels only.
High efficiency - the efficiency loss of the planetary gear train is small, so the transmission efficiency can reach up to 97%.
High reduction ratio - various and higher ratios are available through combination of multiple gearbox stages.
Wide range of applications - due to the high torque density, high precision, high reduction ratio and compact characteristics of planetary gearboxes, there are infinite potential uses in industrial applications.
Types and applications of planetary gearboxes
After years of development, there are the following types and applications of planetary gearboxes:
Output Shaft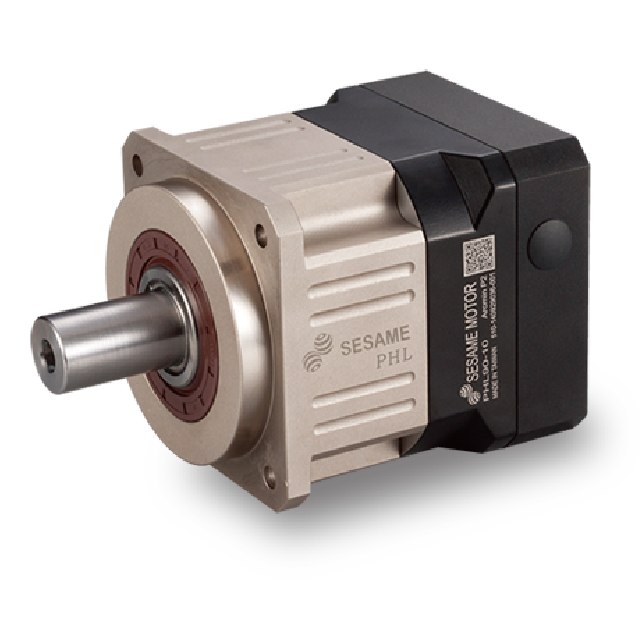 An output shaft is coaxial or parallel configured with the input shaft. There are several forms of output shaft to choose from, for example, usually the output shaft with a feather key, which can make the connection quick and safe between speed reducer and the machinery. In addition, there are smooth shafts or spline shafts on which additional driving parts such as pulleys, gears and sprockets can be installed. The output shaft type planetary speed reducer has a wide range of applications and is suitable for almost all kinds of automation or machinery and equipment. Such as machine tool, lathe, milling machine, water jet cutting machine, laser cutting machine, bottle blowing machine, rubber and plastic machinery, packaging machinery, CNC metal processing machine automatic loading and unloading automatic gantry robotic arm and so on.
Flange Type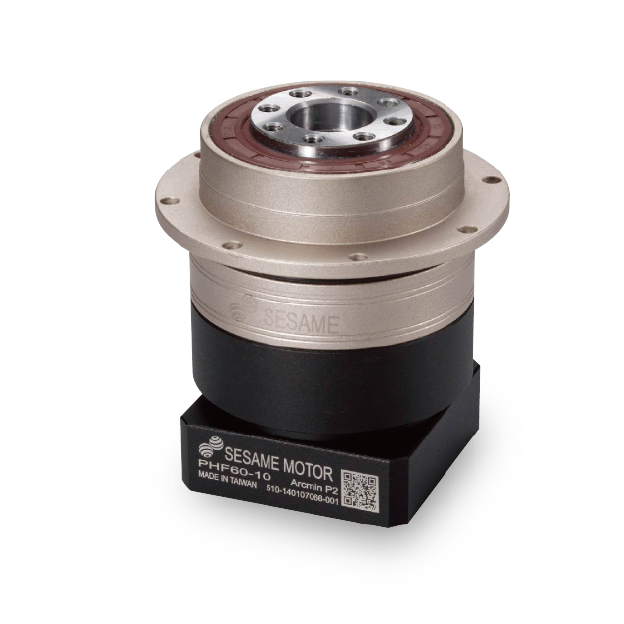 The output flange is designed according to ISO 9409 specification, which can be combined with various pinions and pulleys or couplings that meet this specification to easily and quickly connect to the applied machinery and equipment. The flange type planetary speed reducer can provide higher torsional rigidity due to the structural design and the large diameter of the output flange, and is especially suitable for constantly changing motion control applications. Commonly used in delta robotics or rack and pinion drives.
Right Angle Type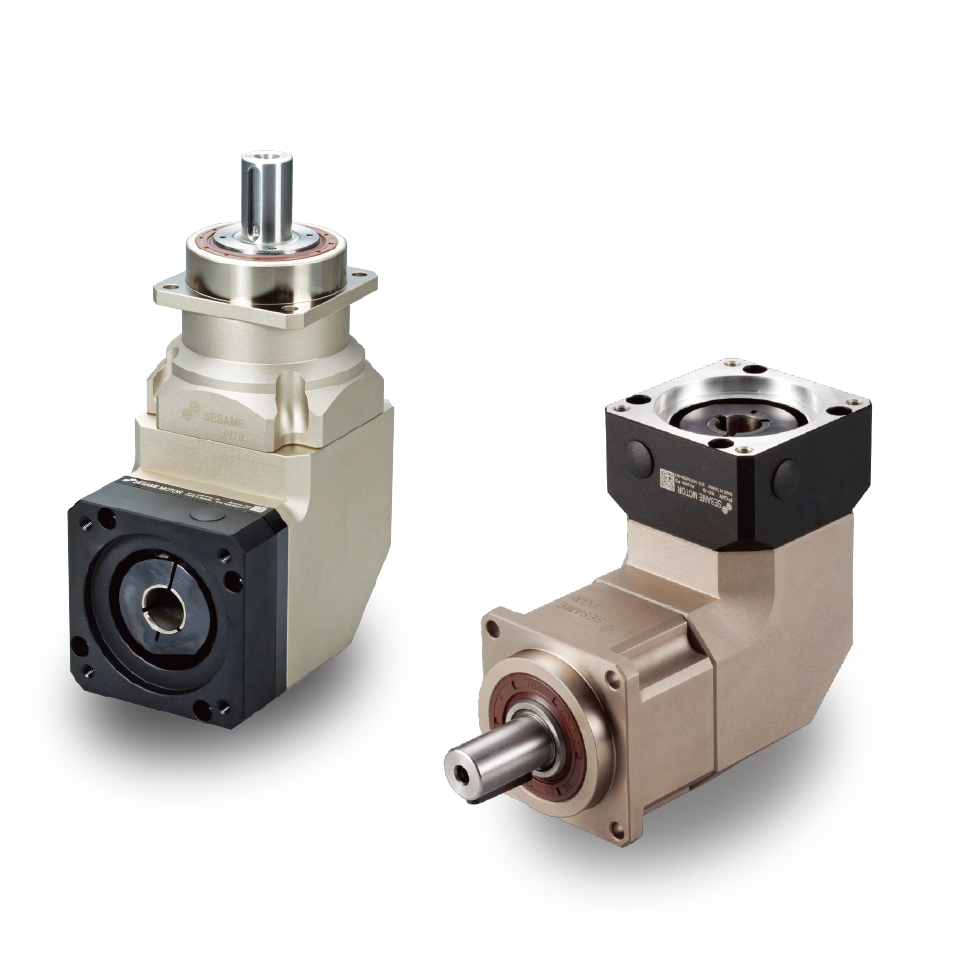 The right angle planetary speed reducer has a right angle housing, which turns the output torque and speed of the servo motor at 90 degree. It helps to save installation space and make the overall design of the equipment more compact. The output end of the right angle planetary gearbox also has two types to choose from - output shaft or flange type. The gearbox can be installed in any direction, which greatly increases the flexibility of design and installation. It is often used in automation devices driven by servo motors, panel handling, automatic storage systems, robotic arms, pipe bending machines, automated guided vehicles (AGV), etc.
Customized Models
Sesame Motor has been focusing on the design and manufacture of motors and speed reducers for decades. Our well-trained and experienced engineers and flexible manufacturing capabilities are able to develop exclusive drive solutions together with customers. Whether it is a special application environment, high output power or rigidity, or special requirements in surface treatment or materials, we can design and manufacture according to your specifications, while meeting the performance, quality and cost standards you expect.
Conclusion
There are many types of speed reducers with different structure and transmission methods, and the planetary gearbox is just one type of them. Even so, planetary gearboxes can be used in countless different fields, and their usages are beyond our imagination. For decades, we have not only been able to discover new application methods of planetary gearboxes from our valuable customers, but also proposed the most suitable solutions for each customer and each application. In the era of Industry 4.0, engineers cannot and are not allowed to spend too much time looking for products in highly challenging environments. Rather than wrestling with product selection, leave the problem directly to us. Sesame Motor has been operating for more than 30 years, and its products have been repeatedly verified by major European and American users. We are more than happy to provide our knowledge and expertise, and look forward to your contact with us to share any questions related to product application and technique.
Contact Sesame Motor
now!