Stainless Steel Gearboxes for Food and Other Demanding Requirements
Stainless Steel Gearboxes for Food and Other Demanding Requirements
The food process is one of the industries that require hygienic conditions for product quality and safety, where general gearboxes does not meet the needs. Sesame Motor has released stainless steel planetary gearboxes SGC and SGE series, the multi-functional products designed for harsh application environments such as food, pharmaceutical, chemical, biotechnology, aerospace, and antimagnetic places.
Why Develop Stainless Steel Gearboxes?
For the food and pharmaceutical industry, the anti-corrosion property of gearboxes is very important and no oil leakage or rust is allowed. Sesame Motor specially designed stainless steel planetary gearboxes are not only corrosion resistant, food grade lubricant is available to offer excellent lubricating performance in the gearboxes without contamination hazard. This lubricant is NSF/H1 approved and is allowed to be used in the food and pharmaceutical industries.
Advantages of Stainless Steel Gearboxes
The full stainless steel gearbox, including housing, output shaft and motor adapter is rust and corrosion resistant. The standard protection level is IP65, and can be upgraded to IP67 according to specific requirements such as high temperature and high pressure washdown. It is suitable for food and medical manufacturers or other demanding applications. The lubrication design of the gearboxes is maintenance-fee and does not need to worry about lubricant change.
Easy Mounting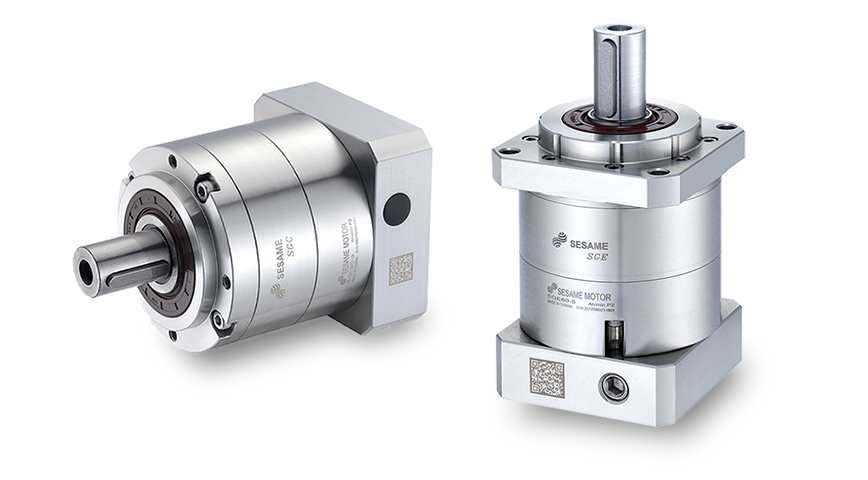 The stainless steel planetary gearboxes series come standard with two types of mounting flange, a square mounting flange (SGE) or tapped holes on housing (SGC, round mounting flange). The differences between the two models are in the appearance and the mounting method. They are ready for most industry and general servo motor motion control applications, and can be selected by user's mounting need. For detail specification, please download the catalogue
here
.
Food Grade Lubricant
Lubrication of gearbox with a food grade lubricant (NSF-H1) is available for food processing industry application. The NSF (the US National Sanitation Foundation) developed a classification for lubricants used in the food industry depending on the degree of product contact with food.
| | |
| --- | --- |
| Classification | Summary |
| H1 | Lubricants can be used on food processing equipment and all machine parts when there is a risk of incidental contact with food. |
| H2 | Lubricants can be used in places where there is no possibility of contaminating the food. |
| H3 | Biodegradable lubricants are typically made of edible oils such as corn oil, sunflower oil or soybean oil to prevent rust on hooks, trolleys or similar equipment. |
| 3H | Lubricants can be used in processes where direct food contact is unavoidable. |
Conclusion
In addition to high-quality planetary gearboxes, Sesame Motor also provide customized services for higher demand and specifications of speed reducers. We have the ability to develop new products to meet customer needs that from various challenging product applications. Want to know more about speed reducers? Click on
the product page
or
contact us
today for more information.