Advantages of using a planetary gearbox in your projects
Planetary gearboxes were launched 30 years ago. At the begining, planetary gearboxes have only appeared in high-end devices in Europe and the USA, have gradually entered the field of automation, and in recent years are widely used in machine tools, semiconductor, packaging, medical, food and beverage, aerospace and other industries. A combination of servomotor and planetary gearbox is part of the standard equipment now. What are the benefits and application of using planetary gearboxes?
What is a planetary gearbox?
As the right figure, a planetary geartrain set consists of a yellow sun gear, dark blue planet gears, a green ring gear and a light blue planetary arm carrier. The ring gear is fixed in this geartrain and the planet gears rotate by themself in addition to rotating around the axis of the sun gear. A gearbox with this geartrain structure is called a planetary gearbox, or gearhead.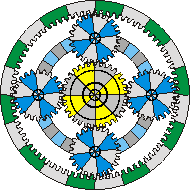 Advantages of the planetary gearboxes
High torque density - with the same volume, can withstand higher torque than other types of gearboxes.
Economy - planetary gearboxes + a lower power motor, to increase output torque and reduce the overall cost of configuration.
High precision - up to 1 arcmin.
Low noise - the lowest 55 decibels only.
High efficiency - up to 97%.